27 Nov

A Conversation with Brian Banks

Composer and Creator of the new multi-media series for kids: Outta the Books www.outtathebooks.com

StorySongs, featuring an international team of musicians, producers and actors, launched a multi-platform entertainment series Outta The Books this month.

The first video chapter debuted on YouTube on November 14th, and a cast recording featuring new and original songs from the StorySongs series is available around the English-speaking world on a variety of music platforms, including Spotify.

Here's the newly released "Chapter 2: Melody Sings the Blues" — in which Melody offers her "StorySong"

Originally set for its theatrical debut at the 2020 Edinburgh Fringe Festival, the StorySongs creative team pivoted once the pandemic hit, and it is now an entirely virtual multimedia experience for kids and families.

StorySongs and Outta the Books are the brain children of award-winning composer and producer Brian Banks. Banks assembled an accomplished cast of theatre actors, including star Karl Queensborough ("C Major," who comes from a line of Big Bad Wolves) and Carl Spencer (Prince Pollywig) from the current cast of the London production of "Hamilton" and others based in Britain, Canada and the United States. We asked him a few questions about the new series for kids and families.

Bloggapotamus: This is music for the whole family to enjoy. What kinds of things did you keep in mind as you wrote these songs? I mean, in terms of style and arrangements?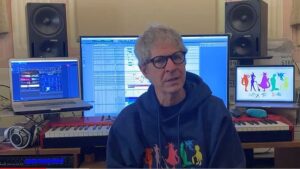 Brian Banks: I spent almost 25 years writing jingles for toys, so I developed some skills at writing music that both kids and parents could relate to. That said, I have always been an advocate of the idea that you should never talk down to kids. They can grasp far more than adults often give them credit for.
When I was a father of young children I became painfully aware that there was very little quality music written for families with small kids. Most of what was out there was really really simplistic and banal. I just wouldn't play it for my kids. So, I thought there was room for some great, interesting, and fun music for these families. When I set about writing these songs, I never went for the lowest common denominator, never went ultra simple. After all, the great songs from Disney movies aren't written that way, so why should I? Stylistically, each "StorySong" is individual. They're all influenced by musical theater and pop music, but beyond that, each song finds its style by how I felt about the story.
Blog: Outta the Books pivoted from a theatrical production designed to premiere at the Edinburgh Fringe Fest. How was it working with an international cast and crew? What were some of the funny and challenging things that happened?
BB: The challenges were endless! I mean, taking a show that was created as a one-hour live theater piece and transforming it into eight video episodes was a big enough hurdle. But then when you add the complexities of Covid forcing us to have each actor shoot in isolation in their own homes…These actors are Actors. They're not cameramen, sound recordists, lighting specialist, continuity checkers, makeup artists…but they were for this show! So, each actor presented their own challenges based on their home environment for the shoot, and their own extra bits of expertise that they might have. We also sent green screens and slightly better microphones to plug into their iPhones — oh yes, did I mention this was all shot on iPhones? Then, of course, there is the "Herding Cats' experience of directing each actor via Zoom with me in LA, my writer, Erica Ehm in Toronto, my director, Neil Fisher in Liverpool and the actors strewn across the globe from Yorkshire in England to LA!
Probably the funniest bit was when one of our actors sent over the audio from his shoot without picture. When I asked where the videos were, he responded that he thought we were using the video from the Zoom conference. Oops! That became a "Do-Over"!
Blog: Outta the Books provides such a fresh take on stories that have stood the test of time. What are some of the messages that 21st century kids can get from the fairy tales and fables featured in your upcoming chapters?
BB: Well, I think that one of the biggest misconceptions about fairy tales is that they are all about the girl getting the prince, or the golden eggs — really shallow, old fashioned outdated misogynistic concepts. But really, those aspects are window dressing. These stories have lasted hundreds of years because they have been designed to teach children the ways of the world and to keep them safe. Cinderella teaches us that if we are good to our friends, that they will come to our aid when we are in trouble. Hansel & Gretel speaks to the importance of family. Little Red Riding Hood reminds children not to talk to strangers. These are basic truths that all children need to know, and these lessons have be put into folklore so that they are remembered.
Blog: What stories did you enjoy as a kid, and did any of them end up in "Outta the Books?"
BB: My mom had all the Grimm's Fairy Tales in a single volume. These were the unedited ones (saving translation) and I loved them. I also loved the film Hans Christian Andersen starring Danny Kaye. That film inspired my idea to put fairy tales to music. So far, I've got 17 StorySongs finished, so I have a lot of favorites in that list. I have actually had to leave a few out of the first season, but they'll be back in Season 2!
Blog: What was the first musical instrument you learned to play?
BB: Piano. My mother is and my grandmother was a great classical pianist. So, I started playing when I was 5. It's home to me. I tried a few other instruments, but never really gravitated to them until I found synthesizers. That then opened up an entirely new world that has carried me through right to today.
Blog: Why is a musical like this important for kids?
BB: Outta The Books is the prequel to a much bigger series of adventures centered around StorySongs. This first series of videos and songs set up the premise for what will happen in following seasons.
It's important for kids to have a musical written for them that speaks directly to them without being over-simplistic. If there are words that they don't know, that will engage the dialog between the parents and the kids — and that's a good thing. I mean, I watched Warner Bros. cartoons as a kid, and there is a ton of stuff buried in there that as I grew up I started to recognize. That's what makes them so great. Lots of levels in the production keeps everybody engaged (I hope).
Blog Can you share any reactions you've gotten so far from families?
BB: The reactions I've gotten so far have been really encouraging. Everything always keeps coming back to the music. It's what makes this storytelling unique. I've done as little "re-imagining" to the stories as possible, trying to stay true to their original intent. The re-imagination is the fact that I tell these stories in music and lyrics rather than in prose. People remember music better than they remember just about any other type of art or information, so I'm excited to bring these stories back to the forefront through StorySongs!
Visit www.outtathebooks.com for more information about Brian Banks, the cast and the stories.