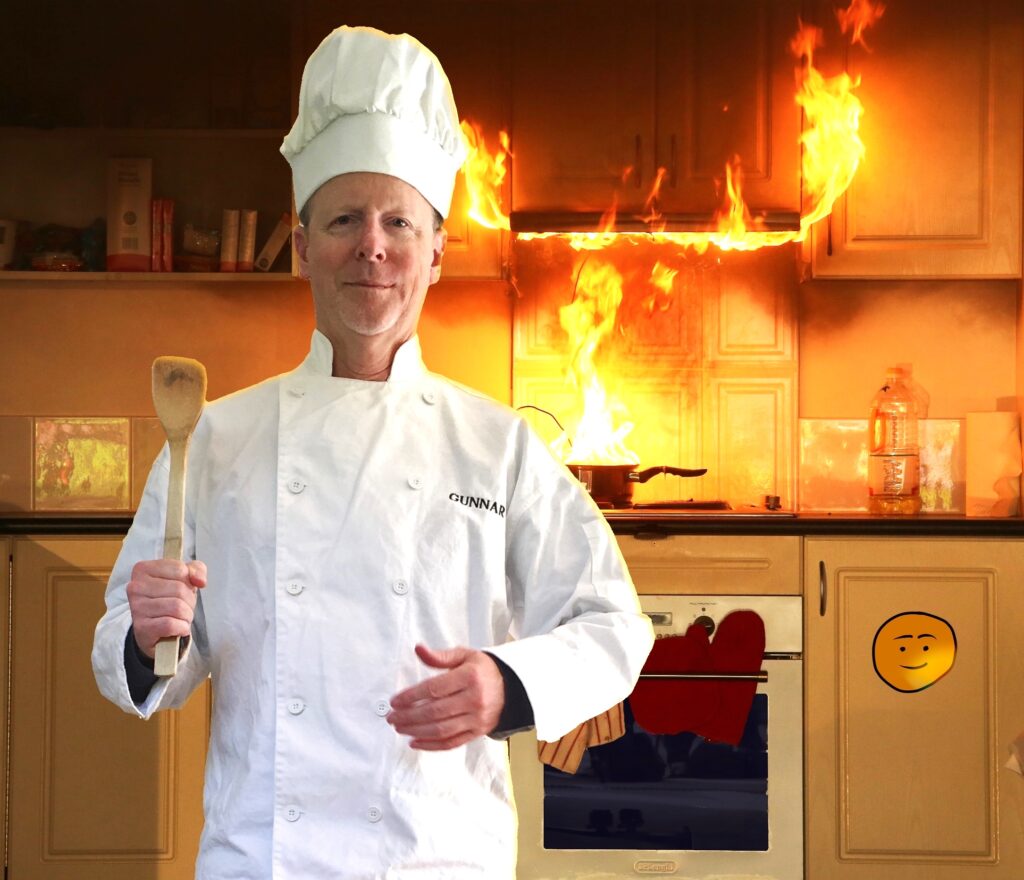 30 May

Gunnar Madsen Chats about Food and Music

Guest post by Beth Blenz-Clucas, Sugar Mountain PR, www.sugarmountainpr.com

Gunnar Madsen, a Grammy nominated artist known for "rib-tickling, off-the-wall, beautifully textured and tender" songwriting, will release his first family music album in a decade, "I Am Your Food". With a baker's dozen of fresh and house-made songs ranging in theme from "10,000 Pancakes" to a "Diet of Worms," the new album proves Madsen's keen sense of taste by including guest vocals by Frances England, Bill Harley and Justin Roberts. "I Am Your Food" will be available in June 2018. You may stream some of the songs on Bandcamp now. You may also view the animated video for "10,000 Pancakes" on the Gunnar Madsen YouTube channel

We had a few questions for this unusual songwriter (and a pioneer of the independent family music scene).
He replied in between writing and recording new tunes in his home studio in Berkeley, CA:

What gave you the idea to create a bunch of songs about food? Were you hungry?
I'm always hungry.  And eating is one of the divine pleasures of life for me.  I've always got music humming and drumming in my head.   And music is my life's passion.  I don't know why it took so long to simply combine the two aspects.

Were you thinking about the dietary habits of children when you wrote these songs?
Since I still cannot claim to have grown up (and it seems unlikely anyone else will claim maturity on my behalf), I was thinking about my lifelong dietary habits from the point of view of being a lifelong child.  My memories of childhood and food are still fresh – the loveliness of cheesecake (my cake of choice for every birthday), the tang of Sweet Tarts.  And the bleagh of Necco Wafers and the absolute horror of Liver.  The delight of a dish that's 'just right'.

Did you perform all of the instruments on this album? 
Aside from guest vocalists, I perform it all.  Mainly out of necessity. I recorded this album in fits and starts, in bits and pieces, over the course of many years, so there wasn't a recording session where I could get a band together.  I also derive some pleasure from learning how to play all the parts. I'm by no means an accomplished bass player, but it was really fun to 'learn' how to play the bass parts for each song, and learn more about the bass with each song I completed.

What do you think are the elements of a good song for children?
A good song just has to be good, whether for kids or adults. Thinking back to when I was a kid, my favorite songs at school were minor and dark – Volga Boatmen, Erie Canal. Songs about towing barges, mainly…so I'm not sure if it was about the towing, or the minor keys :). But I liked the sound of struggle. Happy sunny songs we sang at school were uninteresting to me. BUT, I loved humor. There were some great humorous musical groups at the time (The Smothers Brothers, the Limelighters, Allan Sherman), none of whom targeted kids per se, but they were family friendly, and I loved listening to their records both by myself and with my family. And the music that changed my life as a kid?  The Beatles.  Before I heard them, music was not important to me. The instant I heard them, a world opened up.  Their songs had enough 'sunshine' in them to appeal to all, but even from the beginning they had dark undertones of jealousy and self-doubt that drew me in, that made me trust them.

What's your home studio like? Do you snack while you compose songs?
My studio is snack-free. I do drink tea while working, but no food. My studio is across the back yard from my house, so if hunger is an issue (and I'm always hungry) I force myself to go into the house to get food. Keeps me trim! The studio is large and full of light. We built it as a studio for my wife to paint in (fine art painting), but she ended up enjoying other pursuits, so we moved my grand piano in, and I put in all my electronics and instruments. I've got a toilet and a sink, a couch that folds out into a bed for guests, a drum set that I STILL don't know how to play very well but dream of mastering some day, and various works of art and goofy stuff on the walls.

What are your favorite foods to bring on a picnic? Is egg salad or liver or sardines on the menu?
Liver?  Never! Pate? No way!  I just don't like liver. Eggs are something I do like, but in a tragic twist, I don't like them hard boiled. So, no egg salad for me. Sardines or smelt, grilled, are divine! A loaf of sour bread and a selection of cheeses is sure to pleases (cow, sheep or goat, aged and stinky or fresh and tangy, I like 'em all). Olives! Lemonade!  Berries, apples, nuts. Man, I gotta go on a picnic soon…

How did you select your guest artists and why did you ask them to sing these particular songs?
I picked them because I like them as people, and admire their work.  I've known Justin for a long time, he's been so supportive of me, and has helped me get gigs in the Chicago area.  I remember fondly hanging at his apartment and listening to Wayne Shorter and some other jazz from the 60's, sharing our love of music long into the night.  Frances I'd met through the San Francisco Grammy chapter, and became an instant fan of her work.  And Bill Harley – I forget when I first became aware of him, but when my son was younger, Bill's songs and stories were #1 in our car.  When Bill came on tour to our area, we of course went to see him, and I invited him to our house for a visit.  We've stayed in touch since.  As for the song matchup – Of the songs I'd written, "City of Sardines" seemed like a perfect song for Frances – it's just a song I could hear her on.  The parts she sang were all hers, though – I was so pleasantly surprised to hear where she put things, it brought the song to a whole new level.  "Liver" started as an instrumental, and Justin said he's like to try singing on it.  I worked and re-worked different lyrical ideas, none of them quite gelled until I hit upon the "Liver" lyric.  But Justin wasn't sure that it was the right song subject for him.  I meditated on some of my favorite Justin songs, and came up with "The Longest Night", which I thought would fit his voice and character.  He agreed, and we got it done.  That left Liver in need of a duet partner.  Bill's voice and delivery were exactly what the song cried out for.  Now, the song is happy.Your composition credits are impressive. What are some of the other projects you're working on now or soon?
The musical I co-wrote with Joy Gregory and which was produced off-Broadway in 2011 is being transformed into a movie (The Shaggs: Philosophy of the World).  It's been a long road, but all the pieces seem to be coming together and it's very exciting.  While we are using the stage play as our springboard, we are writing mostly new songs for the movie, so that has me pretty busy.  The movie is set in 1967, and my task is to write songs that sound as if they could have been on the radio in that era.  So I'm listening to tons of mid-60's songs (all of which I grew up with), absorbing the tone and the vibe of that music.  And songs back then were shorter, got right to the point.  So I'm learning a lot about song construction.  I'm enjoying the discipline of writing 60's style pop hits.